Breathing is easy to overlook because it's an activity that you're obviously pretty good at. After all, it's something you do about 8 million times a year, and by virtue of you still being alive, you haven't screwed it up yet!
But even something as fundamental as breathing can be done clumsily or with skill. Today let's learn how to breathe skillfully and take that practice into your Skillful Movement sessions where breathing is so important.
Let's start with a quick overview of your diaphragm:

Your diaphragm is a large, umbrella-shaped muscle that connects to the bottom of the chest cavity. When it flexes, it pumps downwards. As it moves, it draws the entire chest cavity with it. This in turn draws oxygen-rich air into the lungs from the atmosphere.
When the diaphragm relaxes, it slowly returns to its original position, returning the pressure in the chest cavity to normal and pushing out air (now filled with carbon dioxide). Now it's ready to repeat the cycle, and will continue to do so, every minute for the rest of your life.




Now that you understand how the diaphragm powers breathing, we can get to the good stuff; how to breathe more skillfully.

1. Skillful breathing uses the diaphragm to its fullest extension. Just as you wouldn't expect to get a good biceps workout doing just a quarter of a curl, you can't expect good respiration by taking short, shallow breaths. You need to move that plunger way down, as far as it can go with every breath. This is the most counterintuitive part of deep breathing. People tend to focus up top where the breath is rushing into the nose and trachea, but the real emphasis should be down low, where your diaphragm is pushing down into your lower organs.
In fact, when the diaphragm pushes down, it squishes onto the liver and stomach, which in turn press and squeeze into the soft area of your belly, causing your belly to expand outward. This is why teachers trying to explain deep diaphragmatic breathing sometimes use the term "belly breathing." If your belly is expanding, you know your diaphragm is pushing down strongly and you're getting a good breath in. This is also why, after a big meal when your stomach is enlarged, it's difficult to take deep breaths- your stomach is pushing back against the diaphragm!
2. Skillful breathing fills you with energy. You are an oxygen machine. O2 powers every chemical reaction in your body. This is why without it you'll be dead in 3 minutes. The deeper you breathe, the more air you expose to the alveoli to, the more fresh oxygen enters your bloodstream, the more O2 in your blood, the more fuel your cells have. The lungs have a much higher concentration of alveoli at the bottom of the lungs than the top. But only a deep breath will inflate the lungs enough to make use of the thick bushes of lower alveoli.
3. Skillful breathing capitalizes on the fact that exhalation is a passive function. When you breathe in, your back, rib, and chest muscles all flex to assist the expansion of your chest cavity. Exhaling requires no muscle activity, as the diaphragm and companion muscles are simply returning to their default position. This makes the exhalation a perfect time to go more deeply into a stretch. The body is already releasing and relaxing naturally, and your stretch can go along for the ride.
4. Skillful breathing helps you stretch deeper. Your nervous system and breath are completely intertwined. When you're scared, stressed or angry, your breath becomes short, quick, and shallow. When you're at ease, your breath is longer and smoother. And when you're deeply asleep and completely relaxed, you have your longest, slowest, most beautiful breaths.
Stretching works best when your nervous system understands that you're not under threat, that there's no need to be tense and ready for the fight or flight response. The deeper and more slowly you breathe, the more your nervous system will get the message that it's ok to release tense muscles and drop into the stretch. This is the same reason you're advised to take 10 deep breaths when you're upset. The simple act of breathing slowly gets your nervous system to dial down its defenses and roll with whatever's going on.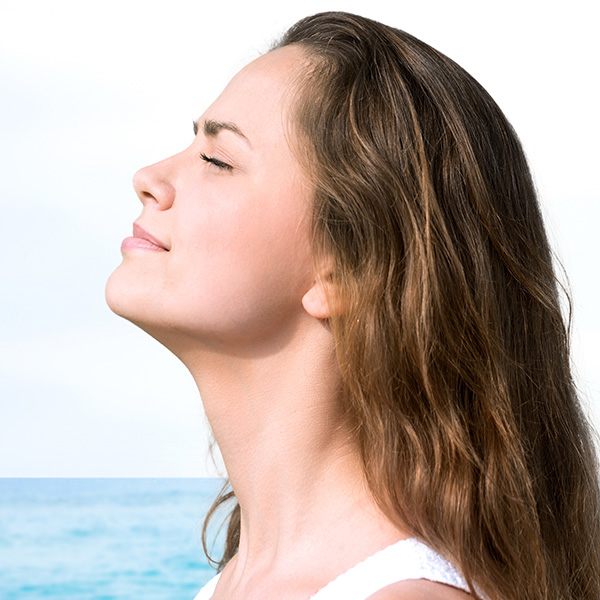 5. Skillful breathing uses the nose. Your nasal passage is evolved to be the ideal entry point for air. It has a built-in filtration system (your nose hairs) and is curved in such a way that it slows down how much air can come in at any one time (much like the small opening at the top of a syringe). You can feel for yourself that when you breathe in through your nose (assuming it's not blocked up with a cold or allergies) that the air comes in at a slow pace that allows your diaphragm to keep up. Now try that same deep breath with the mouth; you can feel that the diaphragm isn't able to draw down quickly enough to make use of the inflow of air and you end up with an unsatisfying breath.
Mouth breathing is useful in situations where you need to get a lot of oxygen in your lungs very quickly, such as coming up from air after being underwater, but during a Skillful Movement session your nose will give you the smooth, deep breaths that we're looking for. Some yoga practices will emphasize exhaling with the mouth. We don't recommend this as it breaks the rhythm of the breath and makes getting into deeper poses more challenging.

The magic in learning how to breathe skillfully is that once you unlock the power of breathing during your Kenzai Reach exercises, you can use your skill anytime you want. Be it before a big speech, in a meditation session, or when dealing with your family, you'll find strong, diaphragmatic breathing never fails to make a positive difference in your life.